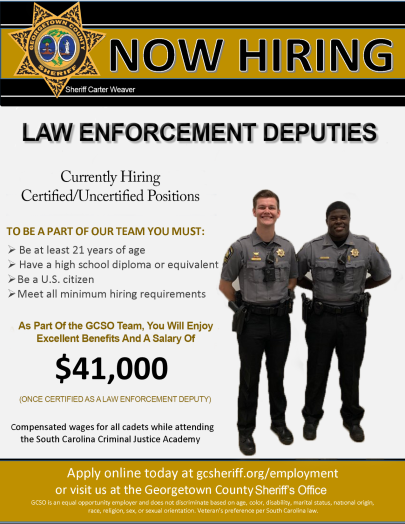 Georgetown County Sheriff's Office Employment Opportunities
New Corrections Officers now receive a $5,000 bonus!
Enjoy full benefits, generous vacation time and paid academy training for certification. There is also a wage increase when you earn your certification, a 2-year step increase of 4%, a 4-year step increase of 3.5%, and entry into the Merit Increase Program at 5 years.
The Georgetown County Sheriff's Office is accepting applications for current and future openings for the following positions, deputy, correction officer and tele-communicator / dispatcher.
It is the policy of the Georgetown County Sheriff's Office to maintain an efficient and effective workforce by selecting capable, qualified applicants through a fair, nondiscriminatory selection process. All elements of the selection process will be administered, scored, evaluated, and interpreted in a uniform manner. The Georgetown County Sheriff's Office will not evaluate any applicant who may have participated in, or committed any crime or act in the automatic Disqualifiers listed in the application. Please review each question in light of your particular life circumstances. If you answer yes to any of the questions, you should realize that you will be disqualified or delayed in the application process.
The Georgetown County Sheriff's Office is accepting applications for current and future openings for the following positions. If you have any questions please contact the Georgetown County Sheriff's Office at (843) 546-5102
SHERIFF'S OFFICE
Position:
Deputy Sheriff – Certified
Paygrade: 126 ($41,000.00)
Deputy Sheriff- Uncertified
Paygrade: 124 ($39,000.00)
Description of Duties:
The Uniform Patrol Deputy enforces the laws for the County Of Georgetown by patrolling assigned areas,
responding to and investigating incidents and complaints received from Central Dispatch. These duties are within accordance to The South Carolina Code of Law, along with the rules, regulations, policies and procedures of the Georgetown County Sheriff's Office.
Requirements:
Must meet all minimum hiring requirements for this position.
Successful Completion of Class I Law Enforcement Certification within (1) one year.
Knowledge, Skills and Abilities:
Knowledge of the laws, rules and regulations applicable to the job.
Knowledge of the policies, procedures, techniques, practices and principles applicable to the job.
Proficient in the ability to access and utilize computerized operating systems.
Ability to analyze complex situations, reach reasonable conclusions and propose solutions.
Ability to present clear, concise and comprehensive written and oral reports.
Ability to establish and maintain working relationships with other officers, investigators and outside agencies.
Ability to respond professionally during stressful situations.
Ability to adapt to various work schedules including weekends, nightshifts and holidays.
Ability to successfully complete and maintain training requirements of the Georgetown County Sheriff's Office to include annual firearms qualification.
Ability to maintain professional appearance and demeanor in accordance with Georgetown County Sheriff's Office standards.
Ability to physically perform the required job duties.
Click here for the Georgetown County Sheriff's Deputy Application
DETENTION CENTER
Position
Corrections Officer
Paygrade:122 ($38,040.00)
General Description of Duties
Under direct supervision, performs a variety of activities pertaining to the County Detention Center in accordance with established policies, regulations and procedures. Performs those prescribed tasks, such as guarding and directing inmates, patrolling assigned areas, escorting inmates, preparing reports, inspecting property, preventing disturbances and processing new detainees. Performs other related duties as required.
Essential Job Functions
Must be 18 years of age and drug free.
Must be able to operate a variety of machines and equipment.
Must be able to exert fifty pounds of force. Must be able to walk and/or stand for long periods of time.
Work involves climbing, bending, stooping and reaching. Must be able to communicate verbally
Training
High School diploma or equivalent - must be certified by the SC Criminal Justice Academy and have forty (40) hours of in service training within one (1) Year.
Must possess a valid SC Drivers License and have a clean criminal record.
Georgetown County Sheriff's Office Corrections Officer Application
EMERGENCY COMMUNICATIONS 9-1-1 CENTER
Position:
Tele-communicator / Dispatcher – Certified
Paygrade: 118 ($33,627.00)
Tele-communicator / Dispatcher - Uncertified
Paygrade: 114 ($30,464.00 )
Job Description: Telecommunicator
9-1-1 Communications
GENERAL STATEMENT OF JOB
Under general supervision, receives, dispatches, and documents all 9-1-1 emergency and non-emergency calls for EMS, Law Enforcement, and Fire Departments. Ensuring that efficient and prompt emergency communications are provided for all public safety field personnel and the public.
SPECIFIC DUTIES AND RESPONSIBILITIES
Answers all emergency and non-emergency telephone lines, including 9-1-1, and seven-digit lines, obtaining and recording pertinent information regarding the nature and urgency of the situation; determines appropriate response and expeditiously alerts responsible units or agencies via the radio or telephone.
Dispatches and directs responding units for City Police, City and County Fire Departments, Sheriff's Department, Municipal Police, and EMS promptly to the needed locations.
Maintains constant status and availability of all emergency units; keeps continuous record of mobile units.
Monitors an assortment of equipment in the course of daily activities including, but not limited to burglar alarms, fire alarms, NAWAS phone, Government Channel radio, recording equipment, NCIC computer, etc.
Interacts and communicates with various groups and individuals in the operation of the department including , individuals involved in the operations of the department including City and County law enforcement officers, City and County fire personnel, EMS personnel, co-workers, general public, outside agencies, wrecker companies, Forestry Commission, security agencies, and other City, County, State, and Federal agencies.
Utilizes an assortment of machinery and equipment in the performance of daily tasks including 9-1-1 phone equipment, computers Computer Aided Dispatch, teletype, dispatch radio, logging recorder, 9-1-1 printer/alarm, facsimile, copier, etc.
Receives and maintains several forms and records such as call sheets, radio logs, wrecker logs,.
Utilizes Emergency Medical Dispatch cards to give instruction to callers as needed.
ADDITIONAL JOB FUNCTIONS
Operates SLED / NCIC computer, checking vehicle registration, driver's license checks, and other information for law enforcement and other agencies.
Assist in training new tele-communicators as assigned by the Supervisor.
Performs other job related duties as required.
MINIMUM TRAINING EXPERIENCE
High school graduate with the ability to learn and apply new skills in the area of radio communications relative to emergency services. Must be able to type thirty word per minute accurately. Must successfully complete the Eighty-hour South Carolina basic telecommunicators. Course. Must successfully complete an approved Emergency medical Dispatch training program. Must successfully complete and maintain SLED CJCS/NCIC certification.
MINIMUM QUALIFICATIONS OR STANDARDS REQUIRED TO PERFORM ESSENTIAL JOB FUNCTIONS
Physical Requirements: Must be physically able to operate a variety of automated office machines and equipment which includes computer, radio, teletype, printer, telephone system, fax machine, copier, etc. Must be able to exert up to ten pounds of force occasionally and/ or a negligible amount of force frequently or constantly to lift, carry, push, pull, or otherwise move objects. Sedentary work involves sitting most of the time , but may involve being mobile. Must be able to lift and/or carry weights of ten to twelve pounds.
Data Conception: Requires the ability to compare and/or judge the readily observable, functional, structural, or compositional characteristics (whether similar to or divergent from obvious standards of data, people or things.
Interpersonal Communication: Requires the ability of speaking and/or signaling people to convey or exchange information. Includes receiving assignments and/or directions from supervisor.
Language Ability: Requires the ability to read a variety of informational documents, maps, computer screens, books, procedure, manuals, checklists, vehicle cards, weather teletypes, computer printouts, and methods of and procedures. Requires the ability to enter data into the computer, prepare call sheets, briefing reports, wrecker lists, phone logs, etc. Must be able to speak with poise, voice control, and confidence; and articulate information to others.
Intelligence: Requires the ability to learn and understand relatively complex principals and techniques; to make independent judgements; to acquire knowledge of topics related to primary occupation. Must have the ability to comprehend and interpret received information; the ability to read maps and learn geographical areas; and the ability to learn and coordinate complex procedures related to extremely life threatening situations.
Verbal Aptitude: Requires the ability to record and deliver information, to explain procedures, to follow oral and written instructions. Must be able to communicate effectively and efficiently in a variety of technical and/or professional languages including Public safety and basic legal terminology.
Numeral Aptitude: Requires the ability to utilize mathematical formulas; to add and subtract totals and to multiply and divide.
Form/ Spatial Aptitude: Requires the ability to inspect items for proper length, width and shape.
Motor Coordination: Requires the ability to coordinate ands and eyes rapidly and accurately in using automated office equipment and communications machinery.
Manual Dexterity: Requires the ability to handle a variety of items, office equipment, control knobs, switches etc, Must be able to reach from control knobs to switches hundreds of times per shift. Must have minimal levels of eye/hand/foot coordination.
Color Discrimination: Requires the ability to differentiate between two colors and shades of color.
Interpersonal Temperament: Requires the ability to deal with people beyond giving and receiving instructions. The worker needs to relate to people in situations involving more than giving or receiving instructions. Must be adaptable to performing under stress when confronted with and emergency.
Physical Communication: Requires the ability to talk and/or hear: (talking: expressing or exchanging ideas by means of spoken words; hearing –perceiving nature of sounds by ear). Must be able to hear and understand communication through a telephone and two-way radio.
PERFORMANCE INDICATORS
Knowledge of Job: Is knowledge in the methods, policies and procedures of the County Communications/E9-1-1 Department pertaining to specific duties of the Tele-communicator. Has comprehensive knowledge of the department. Is knowledge of the EMS, rescue, police, and fire codes and signals and dispatch procedures and regulations used in emergency situations. Is able to use independent judgement and discretion in extremely critical and/or emergency situations. Knows how to perform duties in a courteous manner and with the utmost integrity in the best interest of the public. Is able to communicate effectively with a variety of public and private groups as prescribed. Is skilled in applying a reasonable attention to detail as necessary in progressing and maintaining required forms, logs, and reports. Is able to read understand and interpret status maps and related information and charts. Is capable of working under stressful conditions as required. Has the mathematical ability to handle required calculations. Is knowledgeable and proficient in the use of computers. Has the ability to plan, organize and prioritize daily assignments and work activities. Has the ability to comprehend, interpret, and apply regulations, procedures, and related information. Is able to offer assistance to fellow employees as necessary. Has good organizational, technical and human relation skills. Has the ability to learn and utilize new skills and information to improve job performance and efficiency. Knows how to operate and maintain a variety of office equipment including a typewriter, computer, copier, calculator, etc. as necessary the performance of daily activities. Is able to utilize telephone equipment as necessary in receiving incoming calls for the department.
Quality of Work: occur and specific decision objectives. Identifies or assists in identifying alternative solutions to problems or situations. Implements decisions in accordance with prescribed and effective policies and procedures and with a minimum of errors. Seeks expert or experienced advice and researches problems, situations and alternatives before exercising judgement.
Cooperation: Accepts supervisory instruction and direction and strives to meet the goals and objectives of the same. Questions such instruction and direction when clarification of results or consequences are justified, i.e., poor communications, variance with County policy or procedures, etc. Officers suggestions and recommendations to encourage and improve cooperation between all staff persons and departments within the county and other governmental agencies.
Relationships with Others: Shares knowledge with managers, supervisors and staff for mutual County benefit. Contributes to maintaining high morale among all County employees. Develops and maintains cooperative and courteous relationships with department employees, staffers and managers in other departments, representatives from organizations, and the general public so as to maintain good will toward the County. Emphasizes the importance of maintaining a positive image within the county. Interacts effectively with higher management, County administrator, professionals, the general public, and other government agencies.
Coordination of Work: Establishes priorities for the completion of work in accordance with sound time-management methodology. Avoids duplication of effort. Attends meetings, planning sessions, and discussion on time and as required. Implements work activity in accordance with priorities and estimated schedules. Maintains a calendar for meetings, deadlines and events.
Safety and Housekeeping: Adheres to all safety and housekeeping standards established by the County and various regulatory agencies. Sees that the standards are not violated. Maintains a clean and orderly workplace.
Click here for Georgetown County Emergency Communications Officer /Dispatcher Application