LOCATE SEX OFFENDERS IN YOUR NEIGHBORHOOD
The Georgetown County Sheriff's Office is pleased to provide OffenderWatch® for the citizens of our county. OffenderWatch® is the nation's leading registered sex offender management and community notification tool.
This service is free and can be accessed by clicking on the icon below. Once there, you can type in a local address and get the location of offenders within one mile of that property.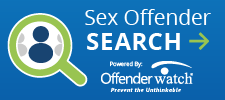 You may also want to sign up for the Offender Watch Safe Virtual Neighborhood mobile app which pinpoints sex offenders near you, helps you track your kids via their phone, and sends you alerts if an offender moves into your area. The Sheriff's Office has an annual contract with the group, so this service is also free and contains no advertising. You can download to your phone directly from the App Store or Google Play.