Sheriff's Community Forum Explores Opioid and Fentanyl Crisis in Georgetown County
Monday, September 19, 2022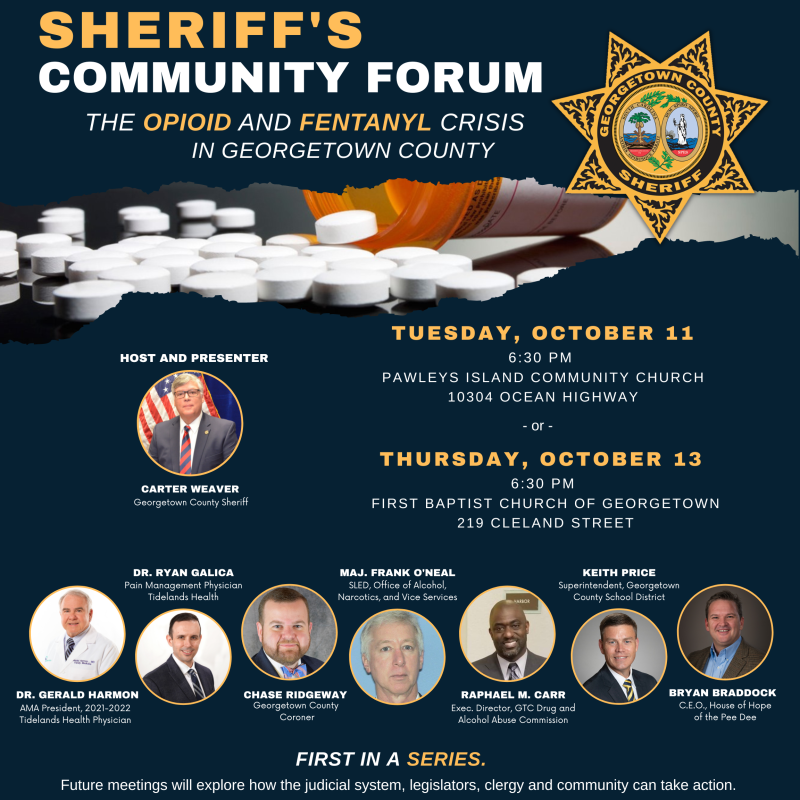 On October 11 and 13, 2022, Sheriff Carter Weaver will host "Sheriff's Community Forum: The Opioid and Fentanyl Crisis in Georgetown County." The forum will feature a panel of experts from the medical community, law enforcement, the school district, and addiction treatment who will share the real damage the opioid epidemic is inflicting on our community.
The Tuesday, October 11 meeting will be held at 6:30 pm at the Pawleys Island Community Church, 13034 Ocean Highway, and the Thursday, October 13 meeting will be held at 6:30 pm at First Baptist Church of Georgetown, 219 Cleland Street. Residents are invited to attend either gathering.
The presenting panel will be (in order of appearance):
Dr. Gerald Harmon served as the American Medical Association President in 2021-2022. He is a clinical faculty member for Tidelands Health Family Medicine and volunteer medical supervisor for the Georgetown County School District. He earned his medical degree from the Medical University of South Carolina and has practiced medicine for more than 35 years.
Dr. Ryan Galica is a board-certified pain management physician at Tidelands Health. He earned his medical degree from Northeast Ohio Medical University and completed a residency and fellowship in interventional pain management at University Hospitals Case Medical Center.
Carter Weaver joined the Georgetown County Sheriff's Office in 2001 as the Assistant Sheriff and was elected Sheriff in February of 2020. He began his law enforcement career in 1986 when he joined the SC Law Enforcement Division (SLED). He earned a Juris Doctor degree from Charleston School of Law and is a graduate of the FBI National Academy.
Chase Ridgeway has served as Georgetown County Coroner since January 2021. He previously served as Deputy Coroner and has been a managing partner of a local funeral home since 2012.
Major Frank O'Neal is the Supervisor of the Narcotics and Vice Section for the SC Law Enforcement Division (SLED). He has been a police officer in South Carolina for 42 years, and has worked in narcotics enforcement for 35 of them.
Raphael M. Carr is the Executive Director for the Georgetown County Alcohol and Drug Abuse Commission. He is a Senior Certified Prevention Specialist and worked as a Substance Abuse Prevention professional with local drug abatement services before
joining the commission.
Keith Price has served as Superintendent of the Georgetown County School District since June 2020. He was Assistant Superintendent in Richland School District Two from 2014-2020. He has been an educator for 26 years and earned a Master of Education and Education Specialist degree from the University of South Carolina.
Bryan Braddock is the CEO of the House of Hope of the Pee Dee, a ministry dedicated to assisting homeless men, women and children. He also serves as a City Councilman for the City of Florence. His experience as a former opioid addict - and his 15 years clean and sober - has assisted him in his work at House of Hope and as director of a faith based addiction program.
This discussion is the first in a series. Future meetings will explore how the judicial system, legislators, clergy and community can take action.