Trailer Stamping Now Offered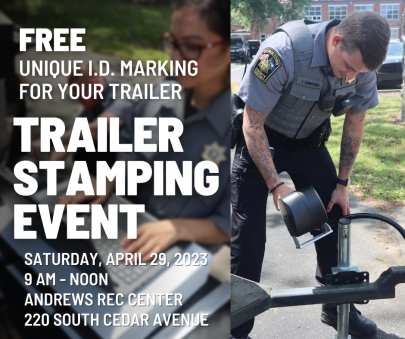 Each year, countless trailers are stolen across the country, and Georgetown County is not immune to the problem. It can be hard to identify and reunite a stolen trailer with its owner because many trailers don't have a VIN or a serial number.
Georgetown County Sheriff's Office wants to help with a trailer stamping event on April 29 from 9 am - noon at the Andrews Recreation Center at 220 South Cedar Avenue. Residents can get a free "owner-applied number" stamped onto their trailer with a special device. This will be entered into our records system, along with the trailer's VIN if it has one. The owner-applied number also makes it harder for thieves to trade or sell the stolen property.
You do not need to make a reservation - just bring your trailer and driver's license or state-issued I.D. Trailer owners must accompany their trailer. We apologize, but we cannot extend this service to golf carts or ATVs.