Training officer of the year
Wednesday, October 14, 2020
S.C. Training Officer's Association honors Sgt. Branche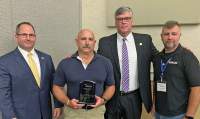 Sgt. Richard Branche of the Georgetown County Sheriff's Office was presented the Training Officer of the Year Award by the South Carolina Training Officer's Association Tuesday at the group's annual meeting in Myrtle Beach.
Branche was hired as training officer at the Georgetown County Detention Center on May 1, 2017, after retiring from the East Brunswick, N.J., Police Department, where he was a motorcycle officer. After attending the S.C. Law Enforcement Academy and receiving his Class 2 certification, he created a three-week pre-academy for newly hired detention center employees. In addition, they receive training and certification in all areas needed to perform their duties. Since the pre-academy began, 49 officers from Georgetown County have received their Class 2 certification from the S.C. Criminal Justice Academy with only one failure.
Current detention center employees' annual elective training has increased from 52 hours last year to over 100 hours this year. Branche has a system in place that allows officers to receive most of their training without increasing overtime. He has certified all officers in the use and deployment of special weapons. He has maintained instructor certifications in a variety of disciplines and skills, and now other agencies send employees to his certification training sessions.
"Rich has worked very hard to ensure professional and safe practices at the detention center and beyond," Georgetown County Sheriff Carter Weaver said. "His dedication and desire to serve is an example to us all."